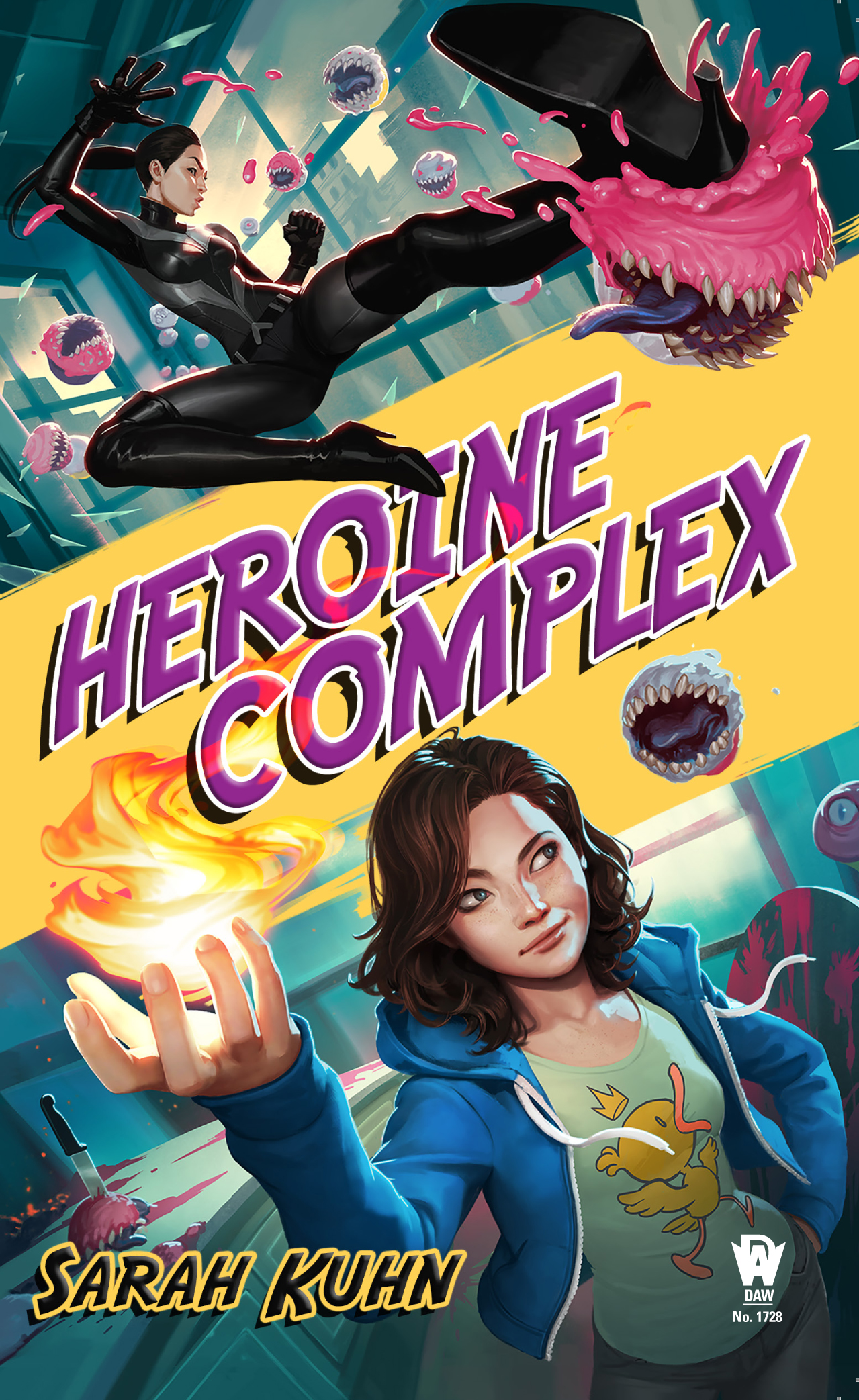 Heroine Complex is the first book in my series starring Asian American superheroines from DAW Books! Cover art by Jason Chan.
Being a superheroine is hard. Working for one is even harder.
Evie Tanaka is the put-upon personal assistant to Aveda Jupiter, her childhood best friend and San Francisco's most beloved superheroine. She's great at her job—blending into the background, handling her boss's epic diva tantrums, and getting demon blood out of leather pants.
Unfortunately, she''s not nearly as together when it comes to running her own life, standing up for herself, or raising her tempestuous teenage sister, Bea.
But everything changes when Evie's forced to pose as her glamorous boss for one night, and her darkest secret comes out: she has powers, too. Suddenly it's up to her to contend with murderous cupcakes, nosy gossip bloggers, and supernatural karaoke battles—all while juggling unexpected romance and Aveda's increasingly outrageous demands. And when a larger threat emerges, Evie must finally take charge and become a superheroine in her own right…or see her city fall to a full-on demonic invasion.
You can read the first three chapters right here:
Heroine Complex Excerpt (PDF)
Heroine Complex is a Locus Bestseller, an RT Reviewers' Choice Award nominee for Best Urban Fantasy, and one of the Barnes & Noble Sci-Fi and Fantasy Blog's Best Books of 2016!
Buy Heroine Complex from your retailer of choice:
You can also add the book on GoodReads!
And check out the book being delightfully Instagrammed by awesome Asian American actresses Constance Wu, Jessica Lu, and Ally Maki!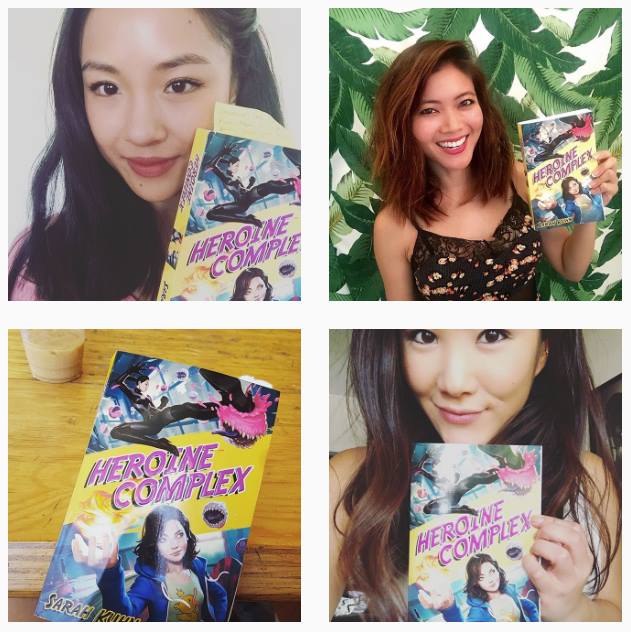 PRAISE FOR HEROINE COMPLEX
"Sarah Kuhn creates characters you want to befriend, worlds you want to live in, and situations you can't begin to imagine. Heroine Complex is at once fiendishly snarky yet colossally big-hearted."
—Javier Grillo-Marxuach, writer and producer for Lost, creator of The Middleman
"Smart, sexy, and filled with beautifully fleshed-out/kick-ass women, Heroine Complex is the kind of read that sticks in your brain like a fanged cupcake… I adored it." —Amber Benson, author of The Witches of Echo Park
"The superheroine we've been waiting for; the urban fantasy we deserve. Sarah Kuhn is the total package: comedy, tragedy, and sincerity. Grab your cape. We're saving the city." —Seanan McGuire, New York Times bestselling author of the October Daye series
"Every page of Sarah Kuhn's novel delighted me immensely… Kuhn's writing is bouncy and engaging, and Evie is very clearly spun into a captivating character. I also have to give Kuhn props for balancing romance and humour and drama, and making me wish that Heroine Complex would go on just a little bit longer." —Book Riot
"Onomatopoeias? Check. Snarkiness? Check. Kick-ass Asian-American superwomen saving San Francisco from demon-possessed cupcakes? Check and check, Kuhn's Heroine Complex is a ridiculously fun read." —RT Book Reviews (Top Pick)
"Romance, adventure, kick-butt action sequences, and killer cupcakes combine to make this a great example of how weird and wonderful urban fantasy can be in the right hands." —Barnes & Noble SF/F Blog
"The best… I never stopped smiling while I was reading." —Courtney Milan, New York Times bestselling author of Trade Me, The Duchess War
"Incredibly fun…it's geek girl heaven." —Smart Bitches, Trashy Books
"The Asian American superhero story we need AND deserve… Heroine Complex brings something to the superhero genre that it could always use more of: interesting, multi-dimensional women of color." —The Nerds of Color
"Sarah Kuhn's Heroine Complex is a delight." —Leigh Bardugo, New York Times bestselling author of Crooked Kingdom, Wonder Woman: Warbringer
"This book is so much fun. It's a really neat take on the superhero/sidekick relationship…a crazy entertaining ride." —Charlie Jane Anders, author of All the Birds in the Sky
"One of the most genuinely satisfying novels I've read in years… Sarah Kuhn has created a story that gives two Asian girls a range of triumphs and mistakes to live through and made the reader's journey delightful and worthwhile." —Women Write About Comics
"Pure fun. Exploding cupcakes, a love story that is both believable and hot, and a group of supporting characters who make you wish for a long running series so they'll appear again and again. This was — hands down — one of my favorite books of the year. It is a perfect example of what romance can be." —Bea Koch, co-owner of The Ripped Bodice (Book Club Pick)
"Crave hilarious urban fantasy that feels like the real world? Make a note!" —Gwenda Bond, author of Lois Lane: Fallout
"Heroine Complex is filled with strong Asian American females readers can look up to." —Northwest Asian Weekly
"Evie's voice is funny, world-weary, intelligent, and instantly engaging… [Kuhn balances] complex emotional depth with sheer fun and silliness. She's taken the best of what makes superhero comics appealing and added her own spin to it." —Fantasy Literature
"A great fun read – and did I mention there's hot nerd romance?!" —Maryelizabeth Yturralde, owner of Mysterious Galaxy (Staff Pick)
"Action-packed and fun, Heroine Complex is the superheroine story that I've been waiting for…a great start to a series, and I can't wait to see who or what Evie and Aveda take on next!" —All Things Urban Fantasy
"It's nice to see two Asian American women at the forefront of a fresh urban fantasy series, and Kuhn has laid a solid foundation with her characters." —Library Journal
"Witty…. Kuhn starts off the novel with vivacity and a tongue-in-cheek narration." —Publishers Weekly
"Heroine Complex must have superpowers of its own to be this good… The action scenes sparkle and the sex scenes simmer. There's something for everyone in this rollicking tale of kissing, cupcakes, and karaoke." —Lightspeed Magazine
"I loved the book. Passionately, viciously, entirely. Even when I was away from the book, I couldn't help but wonder what the characters were up to, what conversations they were having. Kuhn has a gift for making her characters sound legitly alive, and I demand you buy this book already." —Cassandra Khaw, author of Hammers on Bone
"Like Mean Girls meets the Justice League." —Stephen Blackmoore, author of Dead Things
"It's been a while since I have been this charmed, this engaged and enjoyed myself so much when reading a book. And the best thing I can tell you about it is that it is so much fun. Between the optimism of its storylines and the earnestness of its characters, the spot-on cultural eye and the geeky feel, this book is one cool glory." —The Book Smugglers
"Heroine Complex is fun, a page-turner, and despite the demons and magic and fantastical elements, very real and relatable… [T]he kind of book I wish I had when I was younger and looking for characters that were like me." —8Asians
"It's not every day that we meet a fully fleshed out Asian/Asian American character busting baddies or swinging through a city on spider webs in novel form. This is where Sarah Kuhn's Heroine Complex comes in to save the day." —The Daily Geekette
"This book was so funny and fun and so full of real heart, it filled me with pure delight throughout. It's full of fun urban fantasy adventure, hot (AND sweet and funny) romance, intense female friendships and complex, important family relationships. Basically, it has everything I love most in a book!" —Stephanie Burgis, author of Congress of Secrets
"Heroine Complex is a touching look at female friendship and sisterhood…a fresh take." —FANgirl Blog
"Full of fun, feminist superhero action." —Sarah Says Read
"A delightful symphony that hits all the right notes in the urban fantasy/superhero genre." —K.B. Wagers, author of Behind the Throne
"It's a bird, it's a plane, it's Heroine Complex, ready to save your bookshelf from boredom! Books like this are changing the landscape of this genre (for the better) so that little girls don't have to comb through pages and pages of books and comics to find a female character worth relating to, she will be right there on the cover and that's awesome." —Pure Fandom
"Friendship, action, and romance. I couldn't ask for anything more from a modern fantasy. I need a zillion sequels right now." —Michael R. Underwood, author of Geekomancy
"An unapologetically fun story of two Asian American women fighting demon cupcakes in San Francisco and doing their best to save the world." —Jim C. Hines, author of the Magic ex Libris series
"Heroine Complex has something for all the fangirls: the first team of Asian-American superheroines (and they are SO kickass), killer karaoke contests, fire-shooting females and bitchy bloggers, diva behavior, and sexy times done geek style." —On Wednesdays
"A fresh take on a superheroine story. Full of wit and of course danger!… This seriously was an entertaining read. The character development was superb." —Boundless Books
"Heroine Complex features a well-developed cast of diverse characters, a standout voice, and hilarity in all the right moments." —100 Story Reviews
"Love the humor and wacky hijinks, along with character development…. This is everything I've ever wanted in a book!" —Dreaming of Cats